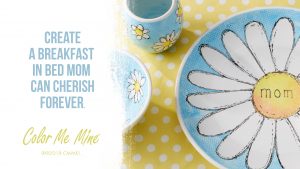 MAKE MOM'S DAY – literally!
She isn't a regular mom – she's a cool mom! A GREAT mom, really! She deserves a memorable gift from the heART whether you are painting her a keepsake to gift her on Mother's Day or stopping by that weekend to make Mother's Day memories – we have something for that special person you call Mom, whoever she is! 
Stop in anytime before May 2nd and paint Mom a gift in order to get the finished piece back before Mother's Day!
Come into the studio and make the mom in your life hand painted gifts!  You pick it, you paint, and leave it with us to glaze and fire – then be WOWed at the transformation of your gorgeous ceramic! Mom will be impressed AND love it! 
Bring in those bebes while they are still squishy to create a keepsake that you will treasure forever! They also make great gifts for grandma! As always, our paint is non-toxic and always safe! Even for those teeny tiny hands and feet!
Join us Mother's Day weekend, May 7th-8th from 11-7pm and create together! No reservations needed. 🙂 Show mom you know how to put the ART in heART.